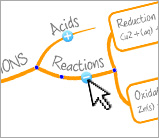 Using Mind Mapping to study for an exam? How about learning a new language? Or simply testing your memory? If so, in iMindMap, you can use the Expand and Collapse feature to hide and reveal branches to test yourself.


Firstly, create a Mind Map of all the information you would like to memorise, and click to blue circle icon that appears on the branch to collapse it. Your Mind Map has been transformed into your new, visual flash card. The beauty of Mind Mapping is that it can contain all of your information on one page, so you can use Expand and Collapse feature on every branch. The proof is in the pudding, in a recent survey, an amazing 78% of iMindMap users said that Mind Mapping has helped you to improve your recall of information.

Useful tip: Try to use lots of colours and images to help your brain make more associations, and strengthen its ability to recall information quickly.
For more information about the Expand and Collapse feature, check out this iMindMap 7 Video Tutorial.
Try iMindMap 7 for free
Don't forget, you can download the 7 day free trial of iMindMap 7 Ultimate today: