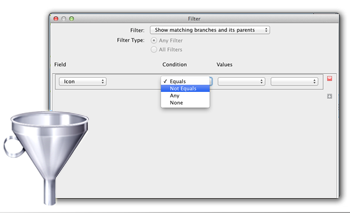 Planning large, complex projects will produce large, complex mind maps and so the ability to filter their content is critically important. Hone straight in on the area or points you need to look at with a lightning fast filtering system. You can filter branches by task information, icons, key words, colour and more.
With a variety of different options and ways of getting to exactly what you want, the Filter tool will cut out the background noise and show you the information you need.
If you are working on projects, reports or task plans that have a lot of information, Filtering will become an essential tool so you can show or hide certain information – enabling you to clearly see what needs to be done, and by whom.
When you're working with a lot of data and variables, it's just one more way you can save time and find some focus.