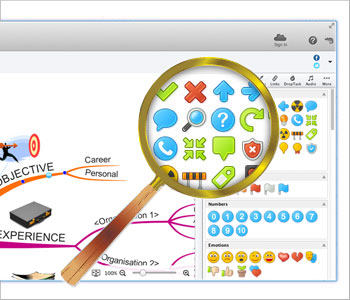 The iMindMap Icon Library gives you an eclectic range of icons to give more meaning to your maps. Ideal for projects, tasks and planning as you can flag tasks in terms of priority, resources or even teams.
Clearly categorised into several useful themes, such as Flags, Calendar, Finance and People, you can easily jump to the icon you need. You can even add icons to batches of branches and for ease-of use, these icons can easily be dragged and dropped onto the branches of your choice.
Your icons can also serve as a category to filter your branches by – a fast way to hone in on ideas and focus on one type of data with the Filtering tool.
Used as either a symbolic key system or to highlight a point, icons are a sharp and tidy way to add meaning and flag branches on your Mind Maps.

Watch Inserting Icons in Action…