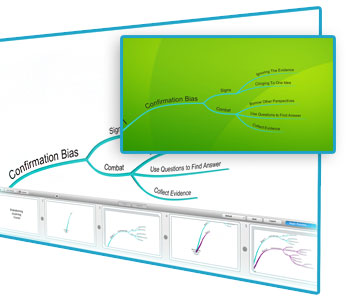 Presenting with iMindMap is a whole new ball game. iMindMap will take you from the early brainstorming stages, through the refining and planning, all the way to an exciting finished presentation with ease and confidence. A refreshing and dynamic alternative to presenting with bullet points and slides, Presentation View animates your map branch by branch and takes your audience on a journey through your ideas.
Build a well-structured argument, in memorable chunks of information, whilst always keeping the bigger picture in sight. Show how all the elements weave together to make the grand design and take advantage of the advanced linking abilities to tie together a variety of other material. Link to files, videos, websites, other Mind Maps or even slides – all from within iMindMap. Plus, customise the transitions, rotate the angles and adjust the zoom for a real visual feast.
View your maps as movable and groupable slides in our advanced presentation builder, so you can choreograph and customise your presentation to play out exactly how you want. Set timers for your presentation so that it can autoplay without you having to control it.
Haven't got time to arrange your presentation? Why not take the quick and easy route with our range of ready-made Presentation Templates. Whether you're in a meeting or teaching a class, you can just select the template and we'll build your presentation for you – it's as easy as that.
Your branch notes will also show up on the presenter screen to prompt you with the facts at key moments, so you can avoid the fearsome mental blank. A good presentation is all about delivering clear information in an exciting and memorable way, and with iMindMap's Presentation View you will struggle to do anything else.
You can add the finishing touches to your presentation by uploading your company logo so it will appear in the corner of every slide. This is particularly useful when presenting to clients or potential customers and to keep your audience captivated, apply a slick background to your slides or present in stunning 3D.
Don't forget, if you want to share your presentation with a wider audience, there are several exporting options available including PDF, Presentation Slides, Video Files or upload straight to YouTube. To learn more, please view our Export as Presentation page.
Watch Presentation View in Action…