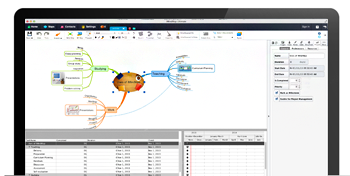 Regain control of your projects with iMindMap Ultimate's Project View. Simply switch into Project View to view any of your maps as Gantt Charts and Task Tables. Create Mind Maps to scope projects – capture everything that needs doing to complete the project – starting with the biggest areas and branching all the way down to the most minute tasks. See the whole picture in one Mind Map, so nothing gets missed.
Then add tasks, dates, predecessors, milestones and durations – with the Task Information panel this is easily within reach. This tool can also be integrated with Microsoft Outlook to help you keep everyone informed and on track.
Claim back a little peace of mind by making juggling different tasks, or managing people, a smoother experience. If you need to step things up a gear for more complex project management, you can plan and scope the details in iMindMap and then export your work to Microsoft Project to manage the rest. Making the complicated simple is our specialty and Project View is one more way you can save time and hassle.