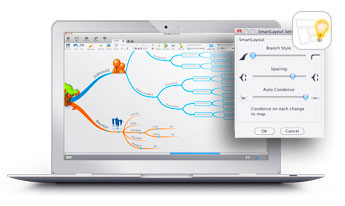 SmartLayout naturally lays out your map for you, making iMindMap the only tool in the world that lets you create great looking, organic Mind Maps with all the benefits of advanced auto-layout technology. In essence, SmartLayout is a time-saving tool that will make your Mind Mapping experience quick, easy and fuss-free.
This feature works in harmony with the Mind Mapping process and is so intuitive you will forget it's doing all that hard work in the background to make your maps look beautiful. SmartLayout will smoothly space your branches out for you, preventing them from overlapping and getting crowded.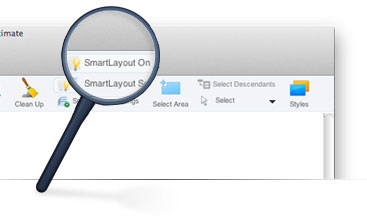 SmartLayout includes customisable settings and an instant Clean Up feature. You can determine how it spaces and shapes your branches and the Clean Up button is always there for an instant tidy up. SmartLayout's auto-shorten function will automatically shorten your branches to the length of the text on them, giving you more space and keeping your maps looking neat.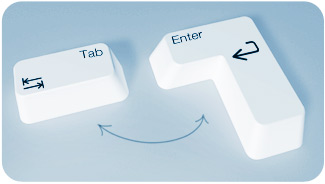 SmartLayout lets you draw yourself, or draws for you, all within the same map. Use the shortcut keys or the Speed Mind Mapping buttons on the toolbar when you're trying to capture a lot of information fast, or draw your own branches for a more involved and creative experience. Save time and effort usually spent hopping between the mouse and keyboard. Instead you can enjoy both styles of creating, when you need them and within the same space.
Switch between a broad range of Styles easily: from colourful and organic, to linear and formal – whatever works for you. You can enjoy a completely intuitive experience, creating great looking maps in half the time thanks to SmartLayout doing the hard work behind the scenes.

See SmartLayout in Action…