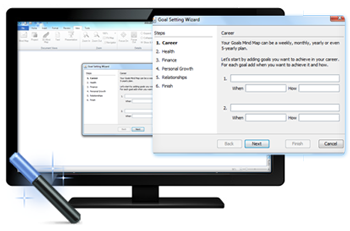 Our Wizards offer you an easy way to create a Mind Map fast. From Organising Your Day to Performance Coaching, the Wizards are designed to help you create your Mind Map step-by-step.
You can select the kind of map you want to create from our range – then just fill in the details the Wizard asks you for. Easy as pie and quickly done, you've got yourself a Mind Map.
Tackling a new way of thinking can be pretty daunting and the Wizards are a great help if you're new to Mind Mapping. You can get shown practical ways to organise and structure a Mind Map for a number of useful tasks.
Just as useful for time saving, the Wizards will get your map done and dusted in record time if you need the finished product but don't have the time to create it yourself.