Welcome to ThinkBuzan Accredited Training Centre
Like any muscle the human brain needs training. With over 40 years experience, ThinkBuzan's Training Team provide a range of fully accredited training courses on Mind Mapping, memory and Speed Reading, endorsed by the Inventor of Mind Mapping and World Memory Championships Founder, Tony Buzan.
Attending the course was one of the best decisions I've made in my career. The course was a natural progression for me and the ThinkBuzan accreditation gave me the credibility I needed to take my corporate training to the next level.

Julie Cummings-Debrot, The English Connection, France
ThinkBuzan Licensed Instructor Training Courses
Master powerful skills in Mind Mapping, Speed Reading or Memory, with a ThinkBuzan Licensed Instructor accreditation. Whether you are looking to begin a new career as an accredited trainer, or transform your performance in your current profession, our accredited training courses will provide the tools you need.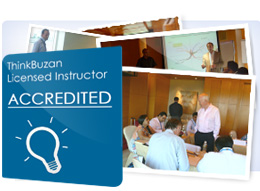 This Mind Mapping training course will teach you all there is to know about Mind Mapping; why it works, how it works and how to apply it, delivered by the world's leading authorities.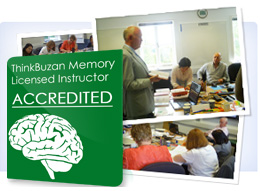 As part of this accredited memory training course, you will learn proven memory boosting techniques from the founder of the World Memory Championships, Tony Buzan.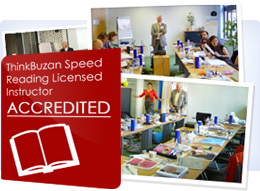 Register for the ThinkBuzan speed reading program, and learn how to read more information in less time, and recall the details for longer.
After 35 years in business, I am usually very sceptical of training courses and am satisfied when I take away one new thing per day. At this course, I picked up many new things in each hour.

Gregg DeSilvio, Senior Director of Strategy and Business Development, Hertz Global Holdings, USA
Course dates and locations
* Save 25% on the Memory course and Speed Reading course if you have first attended the Mind Mapping course and maintain an active TLI status.
Terrific course! I haven't even begun to unpack the possibilities… I've never attended a course where participants regularly show up half an hour early.

Stuart Zola, Neuroscientist, USA
The TLI course was instrumental in transforming my thinking process, communication style and career path. Thank you!

Betty Kan Sekine, Associate Lecturer,
Singapore Institute of Management, Singapore
Additional Training

Consultancy and Speakers
Our speakers on creativity, Mind Mapping and business coaching include Tony Buzan, the inventor of Mind Mapping, Chris Griffiths, ThinkBuzan CEO and Dominic O'Brien, World Memory Champion.

Online Training
Master iMindMap without leaving your desk in our one-to-one online interactive Mind Mapping training sessions, tailored to meet your needs.

Global Instructor Network
View our global network of ThinkBuzan Licensed Instructors in Mind Mapping, Memory and Speed Reading to find your nearest accredited trainer.
Chris got my team to solve problems with a fresh perspective. He opened our minds and taught us how to generate ideas and it was exactly what the company needed.

Martin Bowles, CEO of Horatio Investments, UK
Tony Buzan is a man on an impressive mission – to unlock the power of our brains and show us how to tap and use our creative genius with ease and effectiveness.

His Excellency Dr Abdul Hussein Ali Mirza, Minister for Oil & Gas, Bahrain
Enquiries
For more information regarding our accredited Mind Mapping,  Memory and Speed Reading Training Courses, please contact training@thinkbuzan.com or call our training team on +44 (0) 207 1177 173/ 1-800-961-4582 (USA).